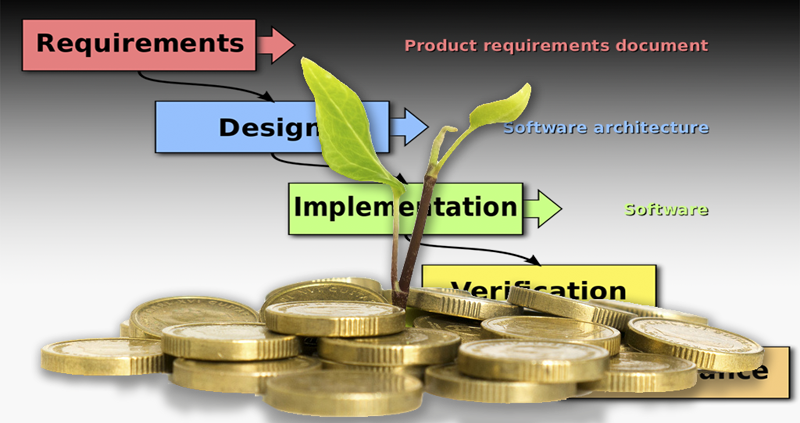 This topic is one of the most opaque for many entrepreneurs, and is different in every case. Some general paths can be described, though. There are two main options: using your own money, or using someone else's.
Using your own money
Using your own money is generally referred to as 'bootstrapping.' Often, because it's their own money, entrepreneurs spend less overall when bootstrapping than when running the business with investors' money. This can express itself in many ways: keeping your day job and building your business after hours, paying people in equity, not having an office, and doing as much as you can yourself.
The advantage of bootstrapping is that you don't owe anyone a return on their money, so if things drag on and on, you don't have a bunch of investors breathing down your neck. You can take your time, build slowly, and make unhurried decisions about your business. It's hard to run out of money when you're not spending any (or spending very little).
The disadvantage is that often, quality is expensive. Paying people in equity is not always an option, and indeed, it usually isn't for people who know what they're doing. You either have to take a risk on someone inexperienced, pay a lot of money out of pocket, or do whatever it is yourself. None of those are necessarily bad things for your business; they're just either risky or unpleasant.
Finally, for many entrepreneurs, a problem with bootstrapping is that it isn't glamorous. Don't fall into this trap! Just because your friends won't be impressed by your after hours project doesn't mean you should try to raise money from venture capitalists. Be aware that your ego could try to convince you to do things that are Bad For Your Company, and try to look at your situation dispassionately.
Using someone else's money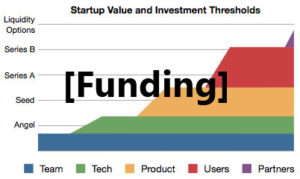 There is a standard path that startups go down when looking to raise institutional capital.
Usually, it starts with what's descriptively called a 'friends and family' round. Predictably, it involves asking your friends and your family for money in order to make your idea a reality. Parents, rich uncles, that lawyer friend of yours are all fair game. You'll probably want to prepare some designs of what your app will be, since it's always easier to support something you can see. This round will most likely involve getting money in convertible note form – basically a loan that turns into equity if things go well. This way, you can give your investors some piece of mind that they'll get their money back if things go poorly, but also get a piece of the company if it takes off.
After using up the money your family and friends gave you on building a prototype of your app (we have lots of blog posts about how to do that correctly), you will hopefully have some sort of success. You'll then start wanting to talk to Angel Investors. Angels are high net worth individuals who will give you something in the five to six figure range to get your app ready for prime time, add more features, or simply scale up your operations. They'll take equity, and depending on the Angel, want some sort of input into how the company is run.
Finally, you may get to a point where you want to talk to the heavy hitters: Venture Capitalists (VCs for short). VCs really don't care about you unless you have 10 million users or $1 million in annual revenue. They're wanting to make big investments for a huge return – usually they're looking exclusively for potential billion dollar businesses. If you can't convince them that your market is large enough to support a billion dollar business, and that YOU are that business, they won't be returning your calls.
VCs typically make investments in the seven to eight figure range and expect a lot of equity. They also want a lot of control over the company, so that if they think you're doing a bad job, they can take it away from you. VCs can be like dealing with the devil, but they can also be amazing resources. They know tons of people who can help you, and are heavily invested in your success.
Conclusion
This is a deep topic, and there are a multitude of books written about it. And to be clear, these paths aren't terribly clear cut, so you can mix and match as necessary. Regardless, LithoByte is here to help every step of the way; we've seen it all, so take advantage of our experience and get in touch!
https://www.lithobyte.co/wp-content/uploads/2017/09/sproutsgold-startup.png
460
800
admin
https://www.lithobyte.co/wp-content/uploads/2021/08/litho-full-logo-300x138.png
admin
2017-10-11 15:13:48
2021-02-02 18:26:46
Mobile App Startups: Raising Capital